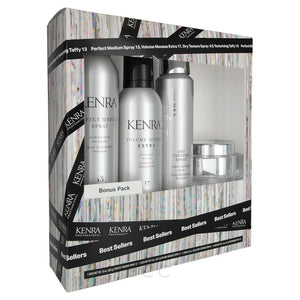 Kenra Professional Best Sellers Holiday Set features Kenra's top 4 products. A great gift for anyone who has never used Kenra and would love to try out their award-winning products at a steal of a deal!
Perfect Medium Spray 13 provides excellent control without feeling heavy on the hair or stiff. Volume Mousse Extra 17 supplies all-day hold and support of fullness while adding a nice shine. Dry Texture Spray 6 has an ultra-lightweight feel with a matte finish that gives the hair a texturized, effortless look. Texturizing Taffy 13 a styling creme that provides a medium hold without making the hair stiff and leaves a nice shine.
Set Includes:
Perfect Medium Spray 13, 10 oz.
Volume Mousse Extra 17, 8 oz.
Platinum Dry Texture Spray 6, 5.3 oz.
Platinum Texturizing Taffy 13, 2 oz.