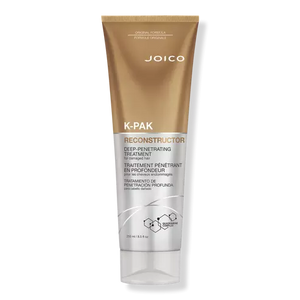 Benefits
Repairs years of visible damage*
Instantly doubles hair strength**
Boosts shine
Improves elasticity & manageability
Rebuilds and re-fortifies damaged hair
64% less breakage*
Instantly healthier-looking hair
Improves hair elasticity

When used with K-PAK RevitaLuxe

** Against combing breakage on damaged hair vs. a non-conditioning shampoo; when using K-PAK Reconstructor, RevitaLuxe, or Reconstructing Conditioner
Key Ingredients
KERATIN: A protective protein found naturally in hair, actively seeks out damage and helps repairs hair by replacing lost proteins. The result? Stronger, healthy-looking locks.
GUAJAVA FRUIT EXTRACT: Packed with antioxidants and Lycopene, which are known to help protect hair against UV damage.
EVENING PRIMROSE OIL: A rich source of Omega-6 and Gamma-Linolenic Acid, an essential fatty acid that helps nourish hair back to health.
SMARTRELEASE TECHNOLOGY: Their one-of-a-kind liposome delivery system packs a punch by continuously releasing Rosehip Oil, Arginine, and Keratin to help repair, strengthen, and protect hair from the cumulative effects of daily styling.