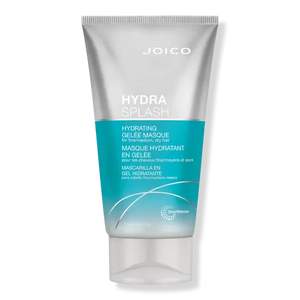 Designed to infuse fine-to-medium hair with lightweight, thirst-quenching moisture, Joico HydraSplash Hydrating Gelée Masque nourishes delicate strands with refreshing, nutrient-rich marine ingredients, while banishing frizz.
Benefits
24-hour hydration*
Hair looks replenished, shiny, and healthy after just one use
Detangles even super-fine strands
Reduces frizz
Won't weigh fine hair down
*When using HydraSplash Hydrating Shampoo, Conditioner, and Replenishing Leave-In, or HydraSplash Hydrating Shampoo and Gelée Masque
Key Ingredients
COCONUT WATER, rich in Vitamin's A, C and E, is a great source of electrolytes. This natural hydrator helps quench dry strands.
SEA KELP is packed full of vitamins and minerals, helping to provide targeted moisture and vital nutrients for fine to medium, dry hair.
SMARTRELEASE TECHNOLOGY, their one-of-a-kind liposome delivery system, packs a punch - continuously releasing RoseHip Oil, Arginine, and Keratin to help repair, strengthen, and protect hair from the cumulative effects of daily styling.